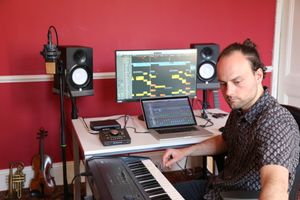 About
Music Composer, Sound Designer, Mixing and Mastering for Video Games and Film. 
From my studio, I write and produce all the music and sounds, from the first musical note to the mastering. It can be linear or non linear / interactive music.
Remi grew up in Paris, showing an interest in music from a very early age, beginning classical piano at the local conservatoire aged 6. In his teens he started composing  instrumentals for local rappers before building his own music studio at the age of 20. He ran this studio for 6 years, recording and producing singers and musicians from many different genres including  hip hop, reggae, rock, jazz, orchestral, pop and electronic.
His experience in these different genres bring a unique fusion of music when approaching a new project. Over the last few years he has been creating music and sound  for films, video games and advertising. His last game project, Ratropolis, was released in November 2019 and has won multiple awards including being one of the best selling games on Steam for 2019. His last film project, Meteor,  is a Sci-Fi motion comic premiering in Paris with great success, will tour multiple film festivals in 2020. 
Rémi has been producing music and sound with professional equipment  for over 10 years. After 3 years in England, he is back in France running Tattooin Beat Studio, a unique place dedicated to audio production and musical creation located in the heart of Paris. He is fluent in both English and French. 
- Upwork Top Rated Freelancer, Composer & Sound Designer for Video Games, Films, Theatre, TV & media,  classical pianist, drummer and sound engineer. 
"

Remi has a strong sense of responsibility and is very kind. I am very satisfied with my business with him and could learn a lot from his exemplary conversational skills." - SungJin H.
— Game Director at Cassel Games
"

Remi is an excellent sound designer. He adhered to the schedule, provided well named files, and delivered everything that we asked of him. I look forward to working with him again." - Clinton M.
— CEO at Dream Forever
"

Remi was fantastic to work with. He's a talented composer and understands all genres of music. It was a real pleasure to work with him from start to finish and we got exactly what we needed." - Bradley J.